Salesforce Inspector Extension
Using this Extension you can increase productivity and improve the overall user experience when working on Salesforce configuration, development, and integration tasks.
With this extension, you can easily access and view field information directly from record detail pages, edit pages, or Visualforce pages. It allows you to quickly view and edit all data associated with a record, even if it's not included in the page layout. Additionally, you can perform one-off data exports and imports within Salesforce, conveniently copying data to and from Excel. No need to log in again if you're already logged in with your browser. The extension also provides visibility into current limit consumption and offers simplified access to user record details, including an easier way to "login as" different users for testing purposes. And there's more to explore and discover!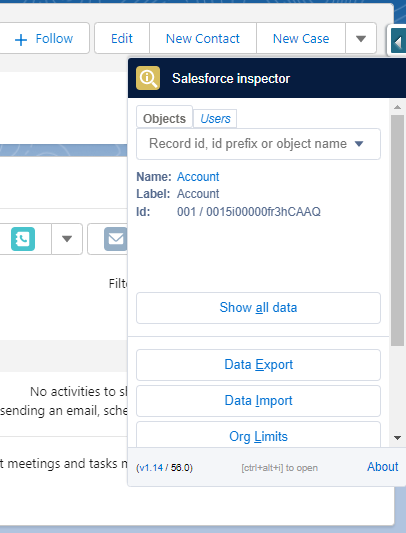 click on show all data. here If you click on view record in salesforce. it will display that record.

when you click on Export button. here, you can write any query.

click on Import button. here you can import the data using field mapping.

check org limit using org limits button.

download metadata using download metadata button.

Explore Api using Explore API button.